Turbine Blower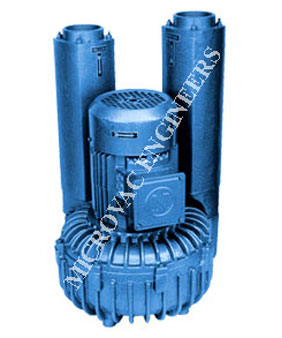 Principle of Operation :

This turbine blowers are designed for either pressure or vacuum. They are available in single & Double Stage Model, so they can operate over a wide range of flow &differential pressure.
These blowers consist of a dynamically balanced impeller, which revolve in a stator cum compression chamber having very fine clearance between them. The impeller is fitted directly on the motor shaft.
Both the suction & pressure opening are located on the outer periphery of the stator to reduce impedance to the air flow, thereby developing vacuum and pressure. Since the impeller rotates with no contact between itself and the casing, there is no wear and tear and requires no lubrication.
Strong fan cooling helps dissipate heat around bearing and impeller housing prolonging bearing life and allowing cooling air delivery. Design ensures exhausted air is always clean & oil free.


MODEL
CAPACITY
MOTOR HP.
MAX VAC. Mbar
MAX. PRESSURE Mbar
M3/Hr. Cfm
ME-45
85
50
0.5
75
85
ME-72
122
72
1
130
140
ME-100
170
100
2
181
211
ME-200
340
200
5
265
350
MED -50/ME-50-S
85/40
50/23
0.5
15/120
85/140
MED-100/ME-100-S
200/100
117/59
1
125/200
140/225
MED-150/ME-150-5
400/200
235/118
3
180/300
200/330
MED-200/ME-200-S
600/300
352/175
7.5
250/410
260/450
MED-250/ME-250-S
800/400
470/235
10
300/460
340/256
MED-300/ME-300-S
1100/500
645/294
15
350/500
400/550