Triple Roll Mill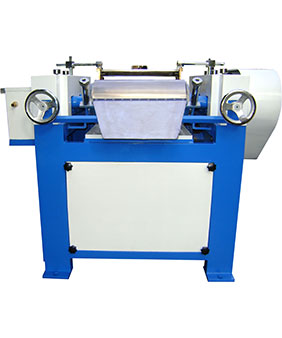 More about MICROVAC Triple Roll Mill
Used for grinding & dispersing of paints, inks, chocolates, carbon pastes, polymers, etc. The machine consists of three rollers operating at different speeds. The material is fed between the first two rolls and is discharged from the final roll by a scraper blade. The paste passing between the rolls is subjected to high stress & frictional forces resulting in the breaking up and separations of particle to produce a finely dispersed film. The gap adjustment between the rolls can be done manually or hydraulically. Rollers are independently cooled by a water circulating facility.
General Design
High capacity machines for all milling requirements fully enclosed modern designs. A self-supporting M.S. Channel frame for maximum rigidity. Smooth operation, very easy to operate and control can be cleaned quickly.
Rolls
The rolls are chilled cast iron construction and are ground to a smooth finish having 450-550 B.H.N with very high resistance to wear and tear. These rolls are hollow and complete with water cooling arrangement with a separate control valve for each roll. The rolls are mounted on cast iron machined blocks fitted with phosphor bronze bushings but can also be provided with self-aligning bearings.
Rolls Setting
Are available in manual or hydraulic settings. In case of manual 4 nos wheel with lock nuts are fitted at the front and rear end of the delivery and feed rolls. For hydraulic settings a specially designed power pack system complete with prime mover, hydraulic pump pressure gauge, pressure control. Control lever arc fitted in front for simple operation.
Gears
The gears are helical and arc accurately machined cut and designed to withstand heavy loads.
Lubrication
The lubrication points are easily accessible and normal servicing can be easily carried out. A controlled lubricating system can be provided at extra cost if desired.
| | | |
| --- | --- | --- |
| Model | Roller Size | H.P |
| HTRM-1 | 3 inch x 8 inch | 1 |
| HTRM-2 | 4 inch x 12 inch | 2 |
| HTRM-3 | 6 inch x 15 inch | 5 |
| HTRM-4 | 10 inch x 20 inch | 7.5 |
| HTRM-5 | 12 inch x 26 inch | 15 |
| HTRM-6 | 15 inch x 36 inch | 20 |